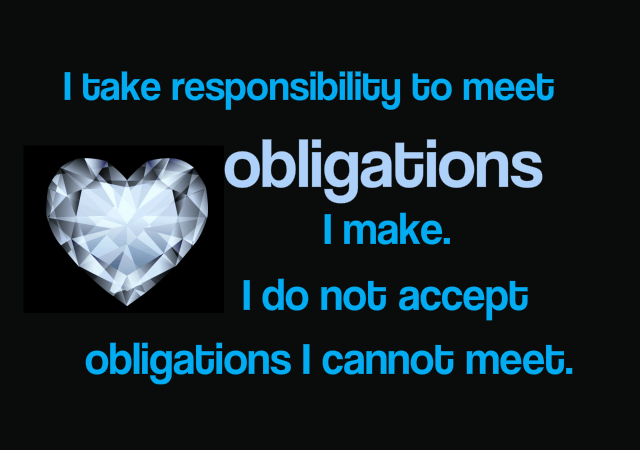 If you're that kind-hearted person that simply can't find the words to say "no",  then this affirmation is for you.
Believe me when I say that saying "no" is more kind than saying "yes" and then not be able to fulfill your promise.
Obligations can be uplifting and rewarding when they are put well within your capacity to fulfill them. Plus you will be more joyful knowing you did what you could and allowed another capable person to do that "other thing".
Obligations
Think of it this way – when you say "no", you're simultaneously allowing another great soul to be happier in their life because they get to fulfill what you couldn't and really shouldn't.
With affirmations – you can't just say them once to yourself (as a sort of one off) and think that's going to do the trick.  You really need to memorize it and say it to yourself each time you sit down and look at your calendar. And definitely every time someone tries to make you feel guilty for saying "no".  Obligations your responsibility – not someone's unhappiness or displeasure with your personal scheduling decision.
Share you success in the comments below and encourage us all with your kind words.
Never settle for being discouraged or feeling like you're a failure. If you need more help, then reach out and email me at private@rebeccaalderman.com. I'm dedicated to your success.
Featured photo is titled "Agenda" on Pixaby