God always has a plan when He calls you to do something. And we've been attentive to hear what He desires as we move forward with this music ministry. So far this is what we understand to date. Please, be patient as we are sensitive to His leading and redirection as needed.
I am a singer/songwriter/teacher and there's many different directions I can go to secure a self-sustaining ministry business plan. However, in the beginning we will need help getting off the ground; hence, the Facebook Fundraiser. I've been able to lower our goal amount because people choose to give in other ways as well.
I'm also a teacher that loves helping people connect to God and develop a stronger relationship with Him to overcome anything in their lives.
A singer needs recording equipment that talks to each other from the instrument or vocal mic into the computer editing software and onto a USB for uploading to distribute and stream online. I also play piano and an electric piano is needed for this technical recording cycle as well.
A songwriter needs more than the recording equipment to submit a quality presentation of each new work. There's a whole administration team that comes together to help with securing and collecting royalties as soon as your new work is released for the enjoyment of the public.
A teacher/speaker only needs a microphone, something worth saying, podcast software and some listeners. LOL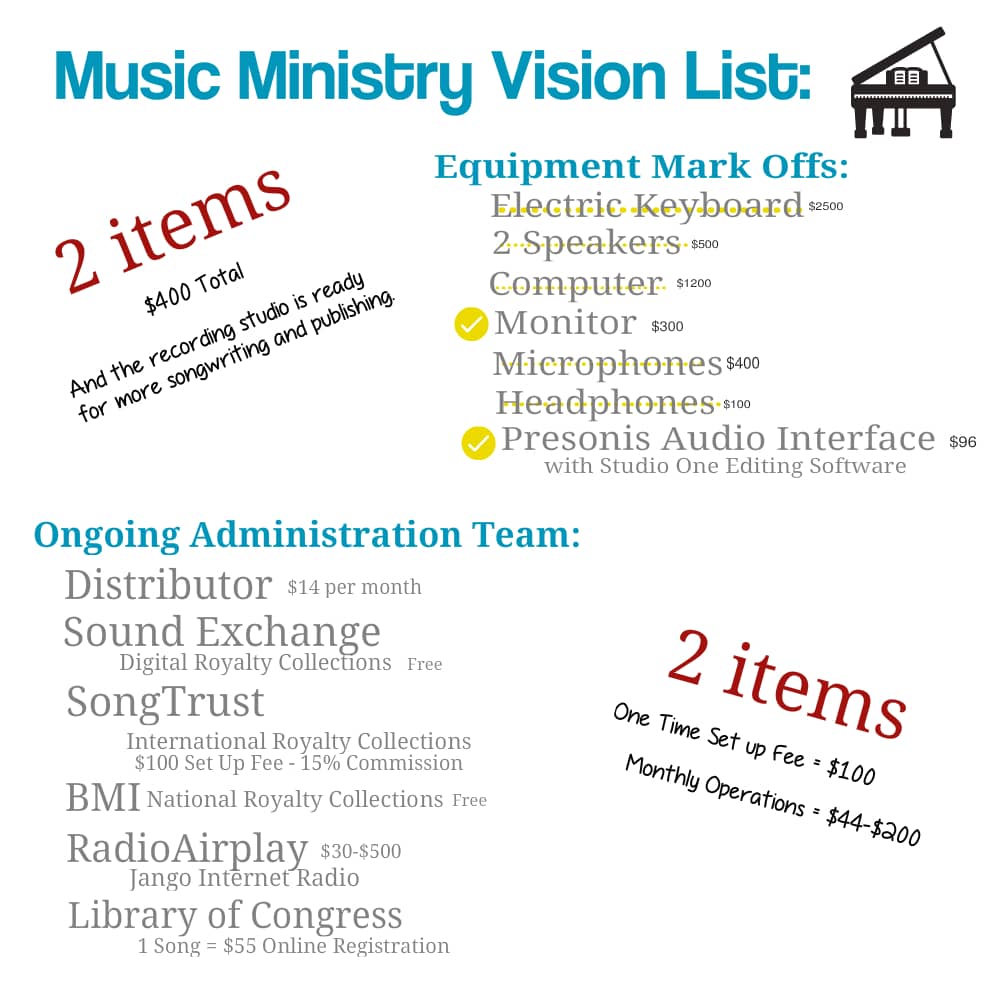 Next, we've mentioned Berklee Music College and International Songwriting Contest. These are being prayed over continually to see how much involved we will be at any point and time. To date, the Acceptance Letter from Berklee is good until November 2020. It could be I might need some ala carte online classes ($1250 each plus fees, special software, and equipment) to better my skills as a songwriter and/or learn more of the legal side of the music industry world to stay astute and productive with our business model.
If you would like to seed into this music ministry beginnings, please go to our Facebook Fundraiser at https://www.facebook.com/donate/837349743329768/